The Talk
---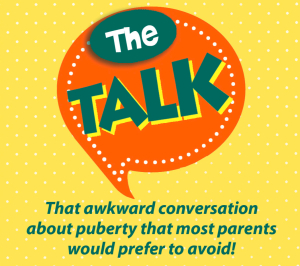 Take the awkward out of The TALK and let us do it for you!
Right from the Start is excited to offer this chance for parents and their tweens to come together in a neutral location to talk about body changes during adolescence. It's just $40 total for parent and child (9-12) to attend and a great way to kick off or enhance the discussion. 
Fun, factual and frank, this 2-hour class teaches the basics about body changes and provides tools on how to handle awkward situations.
Humor, stories, and activities are used to discuss the development of 10-13 year olds on the physical, emotional, cognitive and social levels. Designed in conjunction with the American Medical Association guidelines.
Believe it or not, tweens WANT to talk to you about what is going on but do not know how to start.
Simple and straight-forward, we address the facts and dispel the myths of puberty, taking the taboo out of The TALK!
---
When did you have "The Talk"? Or did you ever?
Don't know where to begin? In this complicated world, a book or a simple overview of what is going on during the tween years will not do it. This class was formulated just for you.
 
The goal of The TALK is to facilitate further, open discussion between parents and children.
 
Teens surveyed said their parents have the most influence on their sexual decisions compared to media, friends, health teachers, and religious leaders.
 
Relax and let us tackle the question about body changes, acne, and hormones as you join your child on this important rite of passage
Let us bring The Talk to your group of tweens and their parents! Contact us at 706-507-0895 or rfts@pilink.org to learn more or schedule a class!
---
---
Recommended Reading
The Care & Keeping of You, American Girl Series

The Human Body-A Fascinating See Through of how our Bodies Work

Boy's Guide to Becoming a Teen, American Medical Association

Boy's Body Book, Kelli Dunham, RN

Will Puberty Last My Whole Life?, Julie Metzger, RN & Robert Lehman, MD

Sex, Puberty, and All That Stuff: A Guide to Growing Up, Jacqui Bailey
For more information or to register you and your child for a class click here for our Upcoming Events calendar. This class is also available for customized presentation to congregations and other groups of parents and children. Contact us at rfts@pilink.org or 706-507-0895, ext. 1210 for pricing and scheduling.