ABOUT THE EVENT
The COVID-19 pandemic put an unprecedented strain on our healthcare system. While many companies moved to a virtual environment, our healthcare professionals on the front line were unable to do so. They resiliently braved the unknown and cared for our loved ones and community. Despite fear, misinformation, shut downs, and this tremendous strain on the system, nurses, doctors, other medical professionals, technicians, housekeepers, cooks, and administrators kept our hospitals open, operational, and our community safe.        
Servant Leadership is woven into the fabric of the City of Columbus and these heroes reminded us why. The Sue Marie and Bill Turner Servant Leadership Gala was established in 2012 to honor couples that work towards exhibiting servant leadership in our community. This year, however, we are choosing to expand this recognition to the leaders and essential workers of St. Francis - Emory Healthcare, Piedmont Columbus Regional, and Jack Hughston Memorial Hospital.   
This event is an opportunity to honor not only the hospital and their leadership but also the essential workers that put their lives in harm's way to care for our community. The Pastoral Institute will be donating tables to each hospital, but you can also donate seats to these front-line workers. You will notice that each sponsorship category includes donated seats that will be equally distributed to the healthcare heroes of our three honoree hospitals.
Please join us on October 6, 2022 at the Columbus Convention and Trade Center
---
ABOUT SUE MARIE & BILL TURNER
Sue Marie and Bill Turner

Their life journey was blessed by both their strong faith and their family. After more than sixty years of marriage, their hospitality and generosity was evident not only in their home, but in their family and our larger community. Columbus became known as a "Servant Leadership City" in large part because of their leadership and generosity. Much of their effort was planting and nurturing the seeds of servant leadership in their family's companies and throughout our community, helping others prosper and grow and leaving a legacy for those to come after them.

This servant leadership led to the establishment of the Pastoral Institute, which came to be in 1974, when Bill and other community leaders realized there was a need for relational mental health services in the Columbus area. Bill and Sue Marie both talk about the Pastoral Institute as coming out of a "vision of love."
---
Sue Marie and Bill Turner Servant Leadership Gala
This form stopped accepting submissions on September 26, 2022 11:00 am EDT.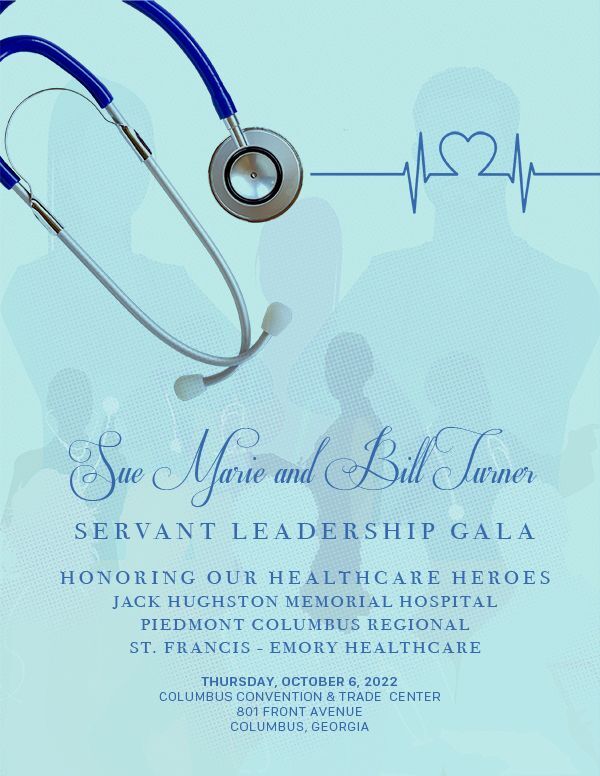 The Board of Trustees of the Pastoral Institute invites you to join us for the 2022 Sue Marie and Bill Turner Servant Leadership Gala honoring our healthcare heroes of:
Jack Hughston Memorial Hospital
Piedmont Columbus Regional
St. Francis - Emory Healthcare
Make your reservations before September 20th for this special evening!
October 6, 2022
Columbus, Georgia Convention and Trade Center
Cocktail Hour - 6 P.m.
Dinner At - 7 P.m.
Business Casual (Scrubs Welcome)
Contact Information
Stephanie Arambula
706 649 6362 ext. 1204