Right from the Start
---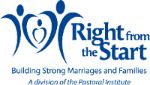 Right from the Start is a marriage and family initiative dedicated to building strong marriages and families.
This initiative seeks to:
-Increase the longevity of marriages and decrease the divorce rate.
-Decrease the number of pregnancies occurring outside of marriage.
-Increase the involvement of fathers in the lives of their children.