---
CAT: Congregational Assessment Tool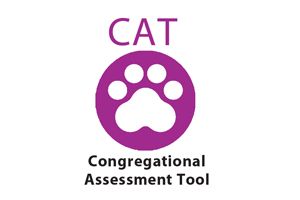 The TMRC staff uses the Congregational Assessment Tool (CAT) developed by HolyCow Consulting. Presently, this instrument is the only evidence-based assessment tool for churches. It has been used to assess the vitality of more than 1300 congregations.
We know that pastors, congregational leaders and the members of the congregation perceive the level of satisfaction and energy of the congregation quite differently. Frequently, the pastor and the leaders believe that things are going well. Imagine if they were to discover that a significant number of people in the congregation are quite dissatisfied. Imagine that the pastor and leaders believe things aren't going well, while the people are very satisfied. Either situation limits the vision and planning for the congregation. These differences in understanding are the rule rather than the exception.
With the CAT, the pastor, the leaders and the congregation can have accurate information available to them. The leaders will have evidenced-based results which will provide them with the necessary information for direction and focused planning.
The CAT also provides a comparison of congregational results from the last 500 CAT results of congregations of comparable size and demographics. This information provides the pastor and leaders with clear benchmarks for reasonable expectations of the congregation.
If you think your congregation is ready for the CAT, e-mail us at mrc@pilink.org or give us a call at 706-649-6360 ext. 1306.