---
Shift: Congregational Transitions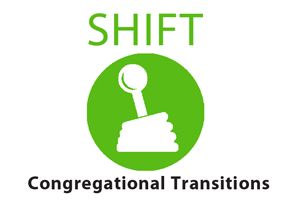 Nearly every congregation is moving through times of natural transition. But there are times in the life of the healthy congregation when it must make a major change. Some of these are times of plateau, pastoral transition, a change in worship style, relocation or a redefinition of ministry focus. These are often critical times.
These transitions offer the congregation opportunities to grow. However, they also can be times of pain and loss.
Shift is a planned process of change designed in cooperation with the leaders and congregation. Shift offers a plan and designed time table for anticipated changes. The purpose of Shift is to assist and support the congregation through these challenging times of transition.
If the TMRC can help your congregation Shift, please let us know. E-mail us at mrc@pilink.org or call 706-649-6360 ext. 1306.