What We Do.
When it comes to mental health, one size does not fit all. Our services are designed to meet each individual where they are, at every age and stage of life.  We offer a safe haven for individuals, couples, children, and families to share your story, gain hope, and become stronger.
---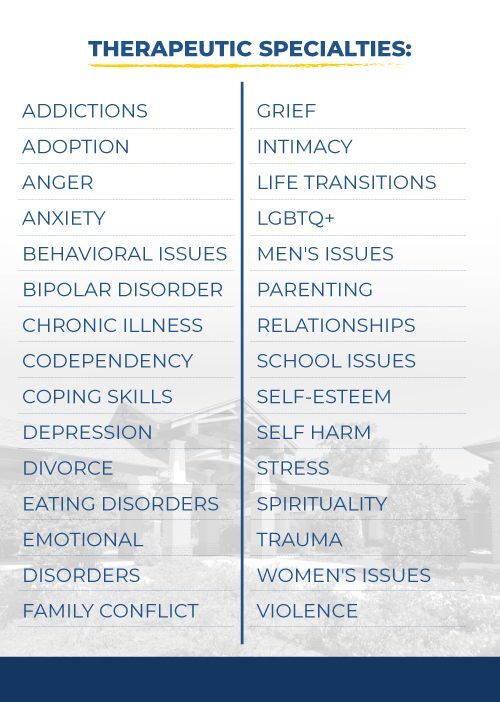 COUNSELING

Therapy, also known as counseling or psychotherapy, is an empowering journey of self-awareness and growth. In one-on-one sessions with your therapist, you will explore the thoughts, emotions, and behaviors guiding your life. Whether you are seeking individual counseling services for yourself or a loved one or even couples counseling, our services focus on resources, strategies, and solutions to meet the mental well-being of our clients. Our diverse group of therapists can support clients addressing a wide range of concerns that include Anxiety, Depression, Grief, Career/Work, Anger, Conflict, Fear, Self-Esteem, LGBTQ+, Family Conflict, Marriage, and more. Our therapists work with individuals, children, and couples. We believe that you should connect with your therapist in a relational way and that "fit" matters. If you meet a therapist and don't connect, we want to get you with the right person with no hard feelings!

TESTING

Psychological testing can sound like a scary thing, but we have Psychologists that work with children and adults to figure out what testing could be done to help find out more about behavioral, emotional, and/or intellectual concerns you or your child may be experiencing. Testing and evaluations are often the best way to equip you with a way forward with social interactions, school difficulties, and relationships. Let us help, we provide evaluations to assess for ADHD, behavioral disorders, learning disorders, IQ, giftedness, trauma/PTSD, autism spectrum disorders, developmental delays, mood disorders such as anxiety and depression, or other psychological problems.

We're here to listen when you need to talk to someone about the crises, situations, and stresses in your life. If your company is a participating Employee Assistance Program (EAP) provider there are confidential counseling sessions at the Pastoral Institute for you and your family for little or no cost to you. Our program gives you easy access to professional help with concerns that impact your personal, family, and work life. Take advantage of your benefit for any number of issues, including but not limited to: Relationships, Child and Elder Care, Stress, Anxiety, Depression Alcohol and/or Substance Use or other Addictions, Domestic Violence, Anger, Divorce, Remarriage and Step-parenting, and Bereavement. The Pastoral Institute is honored to serve our EAP partner businesses, their employees, and their families. Our EAP services are available regardless of where you are located. Our Employee Assistance Program will find a counselor for you from among our extensive network of counseling professionals.

The Congregational Covenant Program provides counseling services and life enrichment education for members of local congregations. This agreement is a covenantal relationship with the Pastoral Institute. There are over 30 participating congregations in the Congregational Covenant Program. If your church is a part of the Congregational Covenant Program, your congregation members may receive individual or family counseling at the Pastoral Institute.

For adults who have experienced grief due to the loss, our Adult Grief Group meets on the first and third Thursday of each month at 6:00 p.m. in our Counseling Center. This group is free and open to the public. Walk-ins are welcome, but if you know you'd like to attend please click to register and we will save you a seat. During this group, topics include language and emotions that accompany grief, tools of survival, healing and all that it entails, adjusting to a new normal, remembrance, and hope.

COACHING

Whether you are looking for life coaching or executive leadership coaching, we can connect you with a trained professional coach that can help you meet your goals. Counseling is the application of clinical methods for the purpose of assisting people to modify behaviors, cognitions, emotions, or other personal characteristics. Coaching* is partnering with a thought-provoking and creative professional to inspire people to maximize their personal and professional potential.

*A coach does not diagnose or offer treatment.
---
To make an appointment or ask questions, contact us at 706-649-6500. 
---
Do you have an Employee Assistance Program or Congregational Covenant Program?
Click Here to see a complete list of employers who participate in our Employee Assistance Program.
Click Here to see a complete list of affiliated congregations who participate in our Congregational Covenant Program.